After factory shutdown, Italian workers 'recycle' jobs
A group of Italian unemployed factory workers take over their disused factory near Milan and plan to set up a recycling business.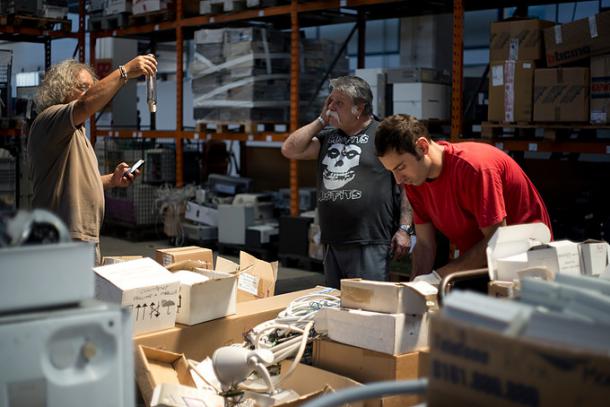 A group of Italian factory workers who lost their jobs at an auto component maker due to the recession, have taken over their disused factory near Milan and are planning to set up a recycling business as they struggle for dignity.
"We were considered rejects in society and we recycled ourselves," said Gigi Malabarba, an unemployed man who has joined the initiative.Their unusual project is illegal but tolerated by local authorities and the owner of the site, a company belonging to banking giant UniCredit.
As Italy's longest post-war economic crisis drags on, theirs is a desperate measure for a desperate time in which there are precious few other jobs.
The facade of the factory is covered in banners.
Inside are dozens of members of "Ri-Maflow," which registered as a social cooperative in March.
The idea took shape during 2012 as the workers struggled and failed to keep their factory open.
A total of 330 workers at the Maflow plant were let go between 2010 and 2012 before it shut down.
It has only just begun but the plan is to recycle and repair electronic equipment destined for scrap.
A factory hall-turned-workshop already has piles of old computers, scuffed keyboards and tools.
There are also plans to host regular organic and ethical goods markets and a large space dedicated to "ancient crafts," as well as a library.
One corner of the factory houses two African refugees who escaped from former dictator Muammar Qaddafi's Libya. They have already set up their own small business — a workshop to repair old bicycles.
"There is no work elsewhere so we are going to invent it ourselves," said Michele Morini, 43, a former employee and member of Ri-Maflow.
"But we needed a place so we returned to the ashes of Maflow," he said, adding that project members were hoping for some "beginner's luck" to recover the "dignity" they lost when their jobs vanished.
"We hope we manage to create something that has meaning, that is environmentally useful, something that is relatively easy to launch and does not require the purchase of expensive equipment." Ri-Maflow is inspired by worker cooperatives from the 19th century that made up for the absence of a social welfare state and were based on "solidarity, equality and self-management," the movement said on its website.
Members also drew parallels with similar factory occupations in Argentina, where dismissed workers took over their former places of employment after the devastating 2001 financial crisis.
The aim is to employ between 200 and 300 people over the next two or three years.
"The outlook is good," said Pietro Calvi, 46, another participant in the project.
He said that the toughening up of European rules on recycling would favor their business as Italy still lags far behind in terms of waste disposal.
Morini denied any political affiliation but said he hoped Ri-Maflow would make politicians reflect on "a critical situation, where the usual, conventional, banal answers no longer work.
"I never thought I would reach this stage. I never saw myself as a revolutionary," he said.
"Even moderates sometimes take desperate, risky measures they would have never thought of. It's very clear — either that or they do not eat."
Geographical: