Here's the chocolate factory, but where has Willy Wonka gone?
No bosses in sight at plants taken over by ex-employees in new workers' revolution in Argentina.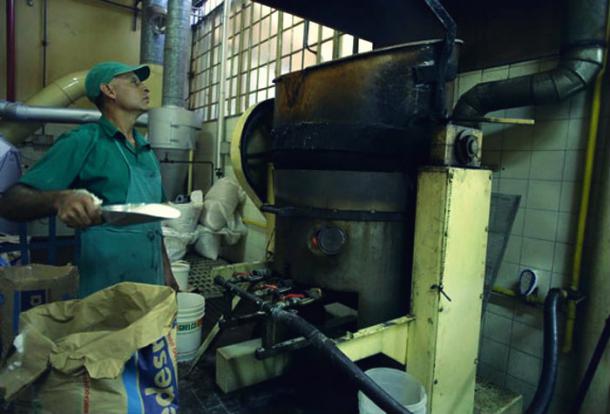 If Willy Wonka and Karl Marx went into business together the result might resemble Ghelco.
From the outside it is a nondescript industrial site in a drab suburb of Buenos Aires, the firm's logo barely visible. Inside, the first thing you notice is the smell of chocolate, honey, caramel, ice cream, cakes and jam. Machines hum while cheerful men in green overalls pack crates of confectionary.
The second thing you notice is the absence of bosses. There are no people in suits giving orders. They do not exist. Nor is there an official owner. Ghelco is run as a cooperative along democratic lines, with an equal say and equal pay.
"In the beginning no one thought we could do it, they thought we were brutes, ignorant. But we're still here, stronger than ever," said Daniel López, 37, who operates machinery and is a member of the sales team.
Welcome to the workers' revolution, Argentina-style. Ghelco is part of a movement where employees "recuperate" firms that have gone bust.
Marx urged workers to break their metaphorical chains but here they do it literally, breaking the chains and locks of their former workplaces, turning on the lights and restarting machines. Some 200 enterprises, from hotels to car parts factories, have started in this way, and now employ more than 15,000 people.
For some, the movement is proof of a viable alternative to neo-liberal capitalism. For critics it is an attempt to rewrite economic principles. For the workers it is a way to put food on the table. "This is not about ideology. It is about what works," said Luis Caro, a leader of the National Movement for Recovered Factories, an umbrella group representing 10,000 people at 80 factories.
The movement grew out of the economic crisis five years ago when Argentina defaulted on its foreign debt, triggering capital flight and the collapse of many businesses. Unemployment rose above 20% and nearly six in 10 sank below the poverty line. Ghelco's story is typical. The company laid off all 91 staff, leaving many owed months of back pay. "We were abandoned, we had nothing," said Juan Mellian. "So we took it back."
In early 2002 workers broke into the boarded-up premises. By begging in the street, then selling cardboard, they raised cash to fix machinery and buy cacao, sugar and other supplies. Water and electricity were reconnected after staff demonstrated outside utility firms with drums and firecrackers. Many white-collar staff did not return, thinking the effort doomed, so the machine operators were forced to manage the sales, marketing and accounting sides.
Five years later the factory is thriving. Each person in the 43-strong workforce earns £405 a month, more than double the previous salary, and the staff jointly make decisions at weekly assemblies.
Mr López, the machine operator, has bought his house, sends his stepdaughter to a private school, and his wife no longer needs to work outside the home.
The factory has earned the trust of suppliers and clients by paying its bills and improving quality control, he said. He attributed the higher salaries to the lack of "fat cat" executives.
In the past three years Argentina's economy has bounced back, easing unemployment and poverty. When a company goes bust there are alternative jobs available but workers often choose the potentially riskier route of taking over their old place of work. According to Mr Caro the Recovered Factories movement has almost doubled its membership in the past two years.
It is a radical, if pragmatic, cog in global capitalism, he said. Most cooperatives face a grinding battle for economic survival. Lack of investment capital and little sales or administrative experience are often crippling; many are in competitive industries, such as textiles.
Legal uncertainty also dogs the movement. While the government has approved a 20-year expropriation bill that frees factories from bankruptcy proceedings, no such exemption has so far been issued. The longest exemption given so far is for two years. "A lot of factories are still hanging in legal limbo," said Brendan Martin, director of Working World, a non-profit finance agency that lends to recovered factories.
The movement has been hampered by internal divisions, with some leaders finding politically radical allies such as militant trade unions. Others, such as Ghelco, have a lower political profile.
Neither the radicals nor moderates hold the political clout they did after the economic crisis. Arguably, the political dilution signals a step towards greater institutional and economic maturity. "Over the last few years we have really seen the movement shift from a political focus to a practical, production focus," said Mr Martin.
Those worker-led factories that are doing well tend to be in niche markets and have low infrastructure costs.
The 44 workers at Cortidoros Unidos Limitada, a wool and leather processing plant outside Buenos Aires, occupied their factory in March, three months after it shut, and are back to 10% capacity. A court has given them a year's grace to prove the cooperative viable. With the help of other cooperatives they are buying materials and paying their bills.
"I could probably have found a job at another company but I like this concept," said Salvador Fernández, 45. "To be your own boss. That's nice."
Geographical: