Gabriel Kuhn (ed.): All Power to the Councils! A Documentary History of the German Revolution
Review by Ralf Hoffrogge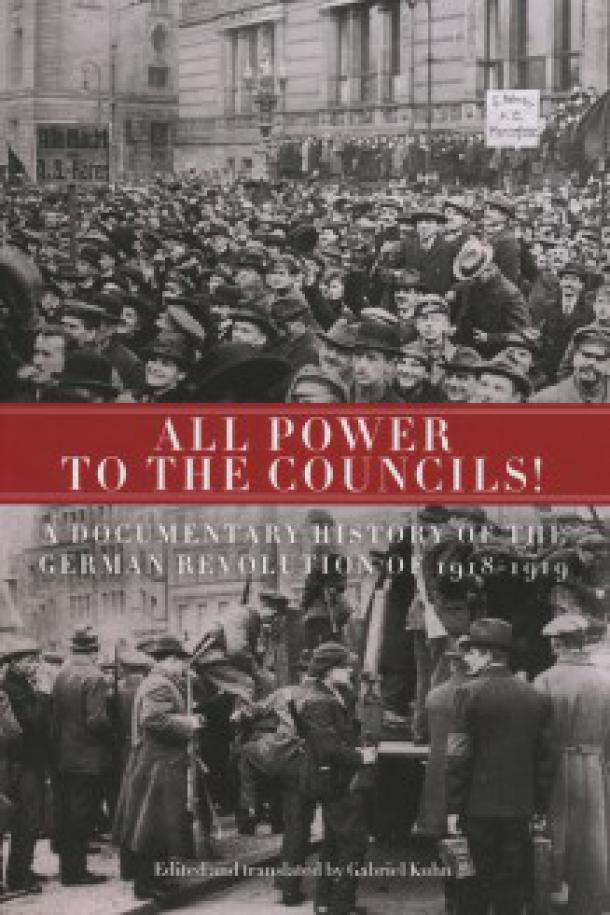 Every schoolchild on the globe knows something about the Russian Revolution from 1917. It was the origin of a state called Soviet Union and a political confrontation later known as the cold war which shaped the 20th century longer than any other political conflict.
Unlike the crucial events of 1917, the German Revolution of 1918 is not part of the global memory. It did not erect a socialist state as hoped by many of its protagonists and instead ended with a fragile republic that lasted only twelve years and was destroyed by the Nazi Party in 1933.
Therefore most readers might connect the German Revolution with the tragical death of Rosa Luxemburg, murdered by counter-revolutionary militias in January 1919. But Luxemburg became a legend not for being a martyr of the German Revolution. She is famous because of her brilliant writings that inspired not only historians and marxist economics but also leftist feminism and anticolonial struggles.
But, and this is demonstrated by Gabriel Kuhn and his outstanding edition - the German Revolution was more than Rosa Luxemburg. She and her writings were part of a social struggle that dated way back into the class conflics of pre-war Europe and found an eruption in the Revolutionary Wave of 1917-1919.
Kuhn features many documents by Luxemburg that show her as a revolutionary activist, trying to push forward the revolution with her Spartacus League, a political formation that broke away from the German socialists when they started supporting the German Government in WWI.
But Kuhn does not reduce the antiwar-opposition and the revolutionary effort to Rosa Luxemburg, Karl Liebknecht and the Spartacists as it was done by marxist and non-marxist scholars alike during the cold war. His documentary history also presents documents from Gustav Landauer and Erich Mühsam, the famous Munich anarchists that took part in the struggle for a councils´ republic in Bavaria. He also presents documents from Bremen, Brunswick, Wilhelmshaven and Kiel - German cities that were taken over by workers´ uprisings or sailors and soldiers in mutiny. These original sources make clear that the German Revolution was not orchestrated by a political vanguard of some sort but a spontaneous eruption of the whole population. Very different groups from centrist social democrats to radical anarchists participated in the events, many others only got radicalized during the events.
One such group that formed during WWI were the "Revolutionary Stewards", a group of rank and file unionists. They started with strikes for better wages in the war industry and ended up being one of the most radical advocates of a councils´ republic in Germany. When the Revolution unfolded in November 1918 this group was far more influential then Liebknecht and the Spartacists, because unlike them it had a wide network of supporters in the factories and workshops. By organizing three political mass strikes from 1916 to 1918 the group was decisive to bring along the political change that Germany saw in 1918.
Kuhn presents several texts by Richard Müller and Ernst Däumig, who were both spokesmen for the Revolutionary Stewards. None of their writings has ever been translated into English before, which makes Kuhn´s edition an achievement. Readers familiar with the historiography of the German Revolution will notice that some more systematic writings of Müller and Däumig on the council-system are missing because Kuhn focusses on the historical events. But nevertheless - by bringing in this group and others, framing the well-known names of Luxemburg and Liebknecht with the wider array of political groups active in Germany around 1918, Kuhn presents a well-balanced account of the German Revolution.
The edition comes with extensive annotations, an introduction and an index, which makes this book useful for scholars and students of the field, while others might just let themselves taken away by the original texts presented, most of them written during or shortly after the revolutionary events and still transporting the enthusiasm of that time.
Title Information:
Gabriel Kuhn (Editor): All Power to the Councils! A Documentary History of the German Revolution of 1918–1919, PM-Press, Oakland/CA 2012, paperback, 320 pages, 26,95 $.