International Gathering of "The Workers' Economy"
First Regional Gathering of Europe and the Mediterranean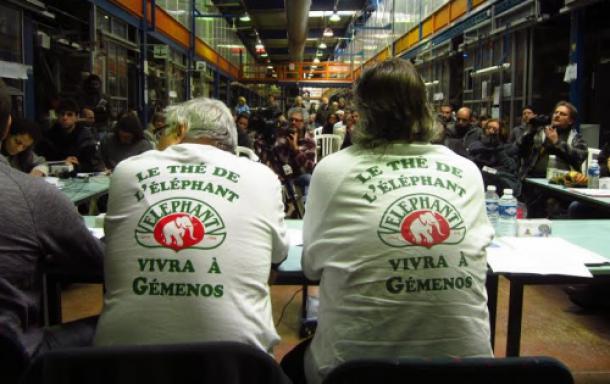 Friday, January 31 and Saturday February 1, 2014
International Gathering of "The Workers' Economy"
First Regional Gathering of Europe and the Mediterranean
Held in the worker-occupied Factory Fralib
Gemenos, Bocas del Ródano, France

Organizers: Organizing committee of the "International Gathering of the Workers' Economy"; Programa Facultad Abierta, University of Buenos Aires (Argentina). With the collaboration of ASPAS (Association of Solidarity with South America of Provence).

The First Regional European Meeting "The Economy of the Workers" will take place between January 31 and Februrary 1, 2014 in Fralib, a factory that has been occupied by its workers in defense of their employment.
Infos and registrations: economyworkersmarseille2013@gmail.com
"This English translation has many errors. We apologize for the errors. We could not do better..."

This meeting is a continuation of the International Gatherings of "The Workers' Economy," organized by the Programa Facultad Abierta (Open Faculty Program) of the University of Buenos Aires since 2007 to discuss the experiences of the worker-recuperated businesses of Latin America. At the IV International Gathering in July 2013, held in Joao Pessoa, Brazil, it was proposed that, in addition to the biennial International Gatherings (Buenos Aires 2007 and 2009, Mexico City 2011, Joaa Pessoa 2013, and Venezuela as the proposed location for 2015) there should also be regional meetings to discuss the particularities of worker-control movements in Europe, North America, Central and South America, Asia and Oceania, and Africa, to be held in the alternate years.

Hence the proposal to co-organize with the workers of Fralib and with the support of Asociation Solidarité Provence Amerique du Sul (ASPAS, the Association of Solidarity with South America of Provence), the First European Regional Gathering of "The Workers' Economy." The aim of this event in Europe is to make the debate and discussion of these experiences – its practice and theory – more accessible for participants from Europe, North Africa and the Middle East, with special emphasis on the defense of jobs affected by the crisis, while contributing to the exchange and knowledge of Latin American experiences of workers' self-management.

This meeting takes on a dimension of great importance in an international context where the global capitalist crisis continues to engulf more and more European countries, especially in the Mediterranean region, and the only response from governments has been to implement the usual austerity measures. These austerity measures, tried and tested in other parts of the world, have, yet again, not only failed to reinvigorate economies, they have led to further impoverishment, structural unemployment, marginalization and insecurity for the majority who must work to earn a living. Large protest movements that have sprung up in "developed" countries most effected by the crisis, such as Greece and Spain, and the proliferation of experiences that look back to old forms of cooperativism as a way to defend disappearing employment or increasingly precarious jobs as a result of the crisis, reinforces the need for changes in the management of the economy that not only contemplate the welfare of workers, but also assure that its management rest in their hands.

Many of the movements emerging in Europe that advocate autonomy and self-management are inspired by experiences in Latin America, where grassroots social movements, people's organizations and labor movements have been developing self-managed structures of organization, that, in many cases, produce goods and services. Such is the case of the worker-recuperated businesses in various South American countries, and other forms of workers' control, both urban and rural.
The International Gathering "The Workers' Economy" seeks to explore these and other questions relating workers' struggles from different perspectives and national contexts. It seeks to provide space for discussion and debate using the experiences of workers' control and self-management as a point of departure, bringing together academics, social activists, and workers. Together with worker-recuperated enterprises, cooperatives, labor movements and organizations, social movements, political groups, and academics, among others, we have been developing these series of Gatherings which have included, in its previous editions, participants from over 20 countries across five continents.

Discussion topics are inclusive of but not limited to self-management, worker-recuperated businesses or cooperativism. Rather, they relate to the different problems that workers face in the global crisis, including, for example, the struggles of migrants, informal and precarious employment and conditions of servitude, or new challenges for trade unions in the context of crisis and capitalist restructuralization.

The European and Mediterranean Gathering, having continuity with those of previous International Gatherings, proposes the following themes:

Program
Friday 31 January:
Opening (organizers), invited guests.
Table 1: The crisis and responses from workers'self-management: Latin America
Table 2: Occupied and recuperated businesses in Europe
Table 3: Precarious labor, migration and unemployment in Europe: Policies and conflicts
Showing of the film "Industria Argentina" (Argentine Industry) by Ricardo Díaz Iacoponi.
Dinner with Latin American cuisine

Saturday 1st February:
Table 5: Movements of resistance to the crisis: Spain, Grece, Turkey, "Arab Spring," Argentina 2001, Occupy Wall Street
Presentation of the space workerscontrol.net (Darío Azzellini)
Table 6: Challenges of unionism in the new European and global context
Exchange of experiences and closing plenary
Geographical: